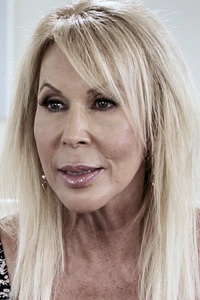 Erica Lauren
Updated : 2018-03-15

|

Times Viewed : 132150

|

Scenes for : 3
Erica Lauren's Biography :
Born and raised in New Orleans, Erica Lauren currently resides in the state of California where she works as an adult actress and is best known for playing the role of the MILF. Lauren lost her virginity at age 18 with a boyfriend. She ranks her teenage self somewhere between prude and promiscuous. She had inappropriate relations with a teacher one time after school during detention. To fight the boredom, she kept flirting with the teacher she thought was cute, then she grabbed his cock through his pants and unzipped them for a blow job. "He let me go home after that."
She performed anal sex for her first porn film. Her break in the business came from answering an ad and taking some pictures. The next day she was working. If trapped on a deserted island with only three items, she'd want her lip gloss, water, "and a toy to keep me occupied." She is most afraid of heights.
Her three favorite books of all time are How to Win Friends and Influence People, "because it's so insightful," How to Read Better and Faster, "because it helps you speed through books," and the dictionary, "because you can really learn a lot!"
Her favorite movie is an oldie called Pillow Talk, starring Rock Hudson and Doris Day. She likes horror movies and thrillers because they're engrossing. She is writing one right now with two other collaborators. When not on set, she is most preoccupied with health, beauty and anti-aging. She was once arrested over a 9-year-old speeding ticket after a cop pulled her over. She was told there was a warrant out and then she was arrested.