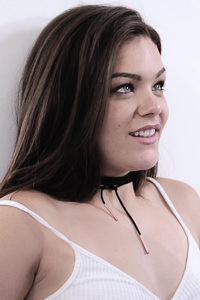 Kimber Woods
Updated : 2017-09-12

|

Times Viewed : 33647

|

Scenes for : 1
Kimber Woods's Biography :
Born and raised in Miami, Florida, Kimber Woods currently resides in Los Angeles, California.
Woods had a Catholic upbringing. Growing up, she had little sexual experience with men prior to her foray into porn. "I was very prude at first, before porn I had only been with 3 men. My first sexual encounters where pretty innocent, just a lot of heavy petting. I lost my virginity in my room on my bed. My parents had left for dinner so we took the opportunity."
Then, she had sex on a slide in a park. She also had sex in the middle of a dance floor at a club, and in her boyfriend's parents' room while they slept. She also twerked on a cop car at Ultra Fest in 2014.
Before the adult industry, Woods wanted to be a pop star or an MMA champ. Her biggest fear is failure. Her got started in the business through an ex-boyfriend. "I wasn't very open to the idea, but after 3 years of him practically begging me, I did my first scene. I fell in love with the work and have been at it ever since."
If trapped on a deserted island, Woods would want an Apple TV, coconut oil and a dildo, "Forget food and water, I can drink my own squirt."
Woods' favorite book series is Harry Potter. Her favorite movie is Mean Girls.
Her favorite position on set is reverse cowgirl, "I love when the guys hold my hips and pound me!"
She is not publicly recognized very often, "but when I am, it's pretty awesome. The fans I've met are super sweet."
Her main preoccupations outside of porn are working out, working on her music and training for MMA.
Woods' divorced parents know about her porn career. "My mother is very supportive. My father is very religious and not supportive, but we still have a good relationship."
Woods has never been arrested. She used to be a swinger.