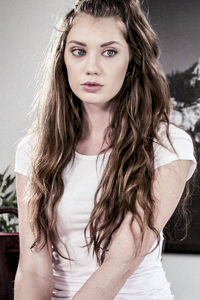 Elena Koshka
Updated : 2018-12-04

|

Times Viewed : 459520

|

Scenes for : 8
Elena Koshka's Biography :
Statuesque beauty Elena Koshka is a 6-ft. Tall Taurus with a sugar addiction. In her formative years, she was prude until she became promiscuous. Her parents are divorced but remarried and somewhat religious. Inspired by PETA, Koshka was once arrested for stealing a beta fish from a warehouse.
Her raciest sexual encounters involved a San Diego transsexual, and a Valentine's Day gang bang right after her divorce, when she was spiraling into a dark place. She's never forgotten the first time she tasted creme brûlée, her first deep tissue Thai massage, and the removal of her impacted wisdom teeth while on strong painkillers. Koshka's biggest fear is dying.
Following her divorce and being "done with love," Koshka got started in the business. She took a quick cash gig that "potentially would ruin" her life. If trapped on a deserted island, she would want a survival kit, a bag of sugar, and apple cider vinegar because it heals all. She's a big fan of self-help books and movies filmed before the 2000s. Her biggest preoccupations in life are her musical instruments, her dog, science, and being alone. She's been caught watching Jerry Springer with her female cousin naked.