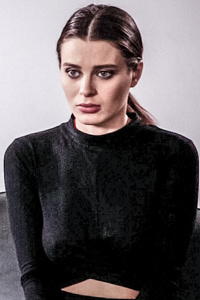 Lana Rhoades
Updated : 2017-09-14

|

Times Viewed : 49336

|

Scenes for : 1
Lana Rhoades's Biography :
Porn starlet Lana Rhoades was born in Chicago, Illinois on September 9, 1996. She performed gymnastics and cheerleading in high school. Rhoades' family is religious and consequently her parents don't know about her adult career. She doubts they will ever find out.
She lost her virginity to a boyfriend whom she met at work. She was raised to believe relationships were meant to lead to marriage. She also used to date girls.
Rhoades' early start in the industry got halted several times due to external pressures. At age 18, Rhoades applied to an agency, but before she could be filmed her mother put a stop to it. In 2015, she spoke with an agent again, but it wasn't until 2016 after ending her relationship that she finally committed to her dream career.
Today, Rhoades' real-life persona is relatively boring compared to her pornstar role. When she isn't filming, neat freak Rhoades is generally caring for her two dogs, baking or cleaning.